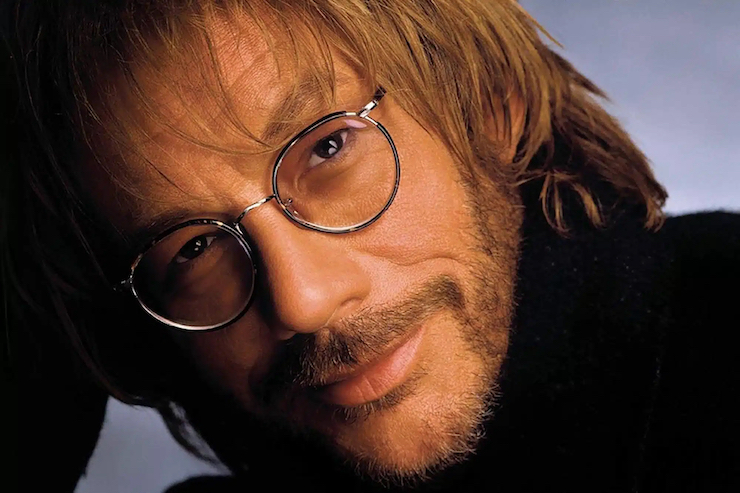 September 7 marks twenty years since Warren Zevon passed away. As a fan, one is left to consider which is the greater tragedy; that his life was so short, that his fame was so fleeting, or that he is best remembered for a goofy novelty song about werewolves.
"Mom and Papa bought a Chickering,
Everyday I'd sit and play that thing.
I practiced hard, it was more than a whim.
I played with grim determination, Jim.
Someone call piano fighter,
I'm a holy roller, I'm a real low rider.
Hold me tight, honey, hold me tighter,
Now let me go, piano fighter."
That lyric works amazingly well as a one-paragraph bio for Warren, in both his background and temperament. The actual story was bit more involved; his father, "Stumpy" Zevon, a gambler, former boxer, and debt collector for L.A. Mobster Mickey Cohen, actually won the piano in a poker game. When he brought it home, Warren's mother Beverly, raised in a strict Mormon family and half her husbands age, refused to allow it in the house. Stumpy reasoned with her by throwing a knife at her head (narrowly missing). She stormed out, and the Chickering was there to stay.
A bit of a child prodigy, Warren displayed unusual skill in recognizing and playing melodies, and at 13 was an occasional visitor to the home of Igor Stravinsky, now ensconced in Los Angeles.
Zevon quit school at 16 to pursue a career in music, and at 24 landed a job as the touring musical director and keyboardist for the Everly Brothers, where he met and hired future collaborator Waddy Wachtel.
His fan club amid the 70's L.A. music scene was huge. Linda Ronstadt covered his songs; Jackson Browne, Glenn Frey, David Lindley, Don Henley, Joe Walsh and J.D. Souther would appear at his recording sessions to join the party and add their talents to his albums. His first major label release, "Warren Zevon" in 1976 was a critical hit, and reached the Billboard top 100. The second release, "Excitable Boy" reached #8.
His live performances were legendary, this period captured in his live album "Stand In The Fire" backed by local band Denver.
But the records that followed had increasingly fewer sales, and by 1983 he had no record contract, and could no longer afford to pay a backing band. But he soldiered on, touring solo with a piano, harmonica, and guitars, delivering scorching versions of his songbook, recorded live as "Learning To Flinch".
By 2002, he was sober, in shape, and working with renewed strength and dedication. Then a shortness of breath at a performance led to a doctor's visit, and a quick diagnosis: pleural mesothelioma, with about three months to live.
Warren rallied, called in his musical stalwarts, and lived to see the release of his final album "The Wind". And to refute the doctors, he lived till September 2003, long enough to see both the birth of his twin grandchildren, and his other stated goal, to see the next James Bond film.
Fittingly, his belief that artistry is grown in the rich stews of Bad Behavior (see biographic album titles "Excitable Boy" and "Mr. Bad Example") are balanced by the heartbreaking confessions of the price of that Bad Behavior. He was an extreme alcoholic, who plunged from functioning to non-functioning, alienating his closest friends and physically abusing his wife.
If the excess and violence in his personal life are hard to defend, the sheer loveliness of the work is not. I once made mental note that the music at my own funeral would be "Desperadoes Under The Eaves", with the magnificent string-driven coda floating and billowing like Aaron Copeland.
Surely such an artist deserves proper re-telling of his story. And there are a worthy three to choose from.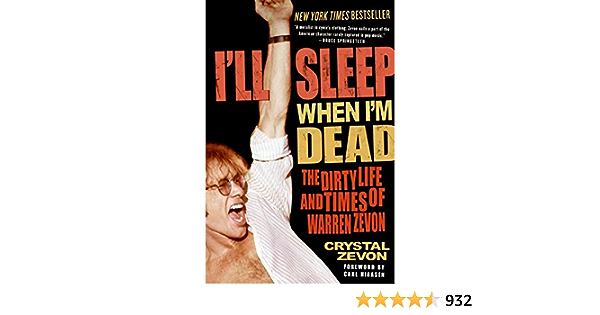 "I'll Sleep When I'm Dead: The Dirty Life and Times of Warren Zevon", by his ex-wife Crystal, presents the man, warts and all, as Warren himself requested. The text is all (generally) short anecdotes and stories recounted by those who knew him best, interspersed with entries from Zevon's diary. Ideal for those whose reading times come in short segments.
"I had a little friend named Mr. Johnson,
Who always tried to be like me,
He rose to the heights of this profession,
And he was hard on his friends and family."
"Nothing's Bad Luck" by C.M. Kushins is more the traditional "start with the grandfather" bio, but replete with details; who played what on individual songs, the OCC and superstition that threaded his later years. A must-read for the fan.
"I got to be Jim Morrison a lot longer than he did." —Warren Zevon
Finally, "Accidentally Like a Martyr: The Tortured Art of Warren Zevon", by music journalist James Campion isn't a traditional bio at all, but rather a series of essays on Zevon songs, albums, and personality aspects. Campion can veer into excessive thesis-speak occasionally, but the fire of a true fan glows throughout.
Finally as my own contribution, here's my personal hit-free best-of.
"I was sitting in the Hollywood Hawaiian Hotel,
I was listening to the air conditioner hum,
And it went mmmmmmmm mmmmmm mmmm mmmm mmm"