The book is encyclopedic in coverage; Janovitz talks to very nearly everyone significant in Leon's life and career, with the exception of ex-wife Mary.
Born Russell Bridges in Tulsa OK, a child prodigy who began playing piano at 4, he became a fixture on the local music scene, then made the pilgramage to L.A. There he became part of the elite group of studio session musicians Hal Blaine later dubbed "The Wrecking Crew", and played on hits like "This Diamond Ring", "Mr. Tamborine Man" by the Byrds, "That's Life" by Frank Sinatra, Glen Campbell's "Gentle On My Mind", and many others.
The Big Break came when he was tapped to assemble and lead a band for Joe Cocker's 1970 Mad Dogs & Englishmen tour, an experience that made Russell famous and created bad feelings between him and Cocker, Joe feeling that Leon's flashy stage presence stole the on-stage thunder. Based on the account in the book, I think the feud can safely be called in Russell's favor.
The tour launched Leon into superstardom, selling out arenas and releasing gold records. As the book recounts, he was given to full rock star financial extravagance, impulse buying real estate, recording studios and tour buses on a whim. The divorce from Mary McCreary cost him dearly, and as his fame faded, he was required monetarily to tour constantly until near the end of his life, hoisted onstage in a wheelchair, his only record sales coming from home-brewed CDs sold from the merch table at beer joint gigs.
Redemption of sorts comes late, when Elton John, in the full flush of fame and wealth, reconnects with Leon, who had been encouraging to EJ as a young artist. The two recorded a collaborative album "The Union", and Elton lobbied hard and succesfully to have Russell inducted into the Rock and Roll Hall of Fame.
As a songwriter, he had specific ideas on how to write a "standard" that could become an often-covered gold mine, and executed them in "A Song For You", "Tightrope" and "Superstar". He would remark on how much money Richard Carpenter had put in his bank account with their cover
A must read for fans, and recommended to anyone who enjoys a good music biography.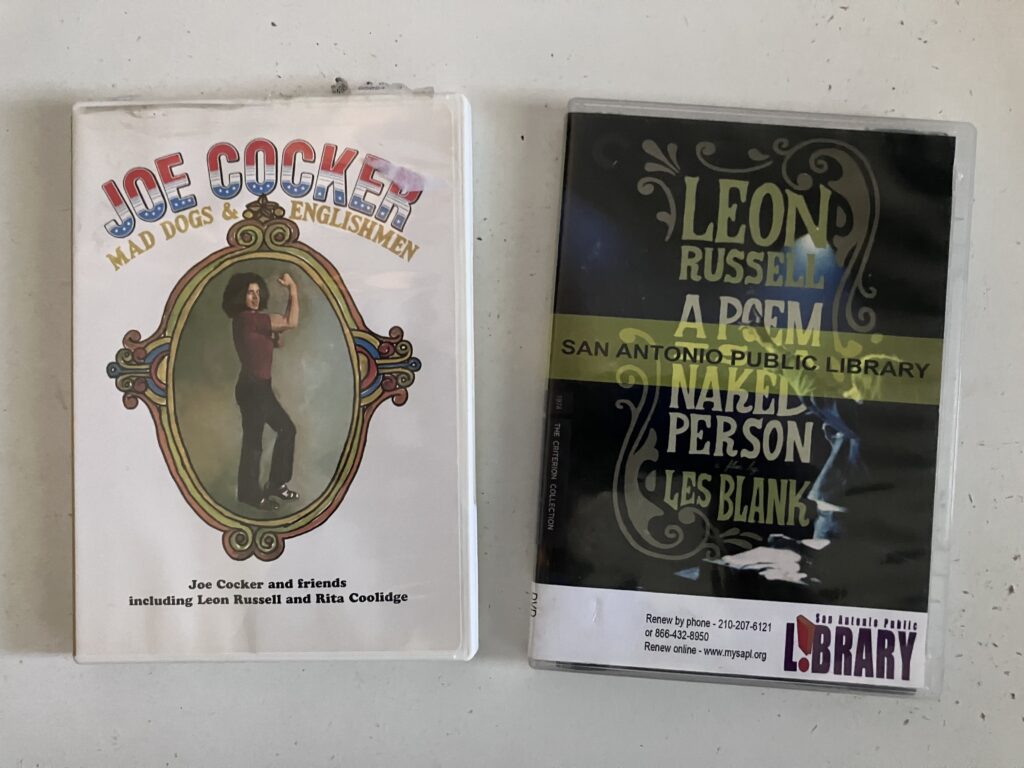 For a second course after the book, The Mad Dogs & Englishmen tour was captured on film in all its 70's rock and roll debauchery. At this point, it's almost impossible to watch Cocker's arm-flailing performances and not think Belushi; but the film and the performances hold up well. A huge group of crack musicians and singers, the energy boils off the stage, even fifty years later. Recommended for those who where there at the time, whether they remember it or not.
For dessert, it's now possible to see the long undistributed Les Blank film "A Poem Is A Naked Person", a documentary Russell financed. Blank followed him around his home base in Tia Juana Oklahoma and his compound on Grand Lake. After two years of shooting, Leon disliked the finished film so much that he refused to allow it to be shown, unless Blank himself was present at each showing. It was finally released in 2015 by Les Blank's son Harrod. And frankly, I have to side with Leon on this. Much of it is rather slipshod home movies of reflections in lake waters, small children singing "Joy To The World" repeatedly with no prompting, and a distinct lack of any glamour in the surroundings or inhabitants of Tia Juana. The Master of Space and Time works his magic on stage and in the studio, but there was much distress over the scene involving Armadillo Word Headquarters artist-in-residence Jim Franklin, who was hired to paint murals on the walls of the lake house and the bottom of the newly completed swimming pool. Franklin kept a pet constrictor, and if the phrase "live snake feeding" makes you squeamish, rest assured the close-up footage will make you dive for the remote. Again, required viewing for the completist fan.
Special thanks to our dear friends at San Antonio Public Library.